Nathan Trebes
is an
Editor
who specializes in a wide range of High Definition Post Production workflows and
Web Design
. Trebes' editing credits include seminars with Michael Gerber, Tony Robbins, Chet Holmes, and the
Co Founder of Apple
, Steve Wozniak. Trebes has edited numerous short films that have been screened in film festivals across the country. He graduated from the Academy Art University in 2007 where he received a BFA in Motion Pictures and Television, specializing in Film Editing.
Download Nathan's Resume as: .PDF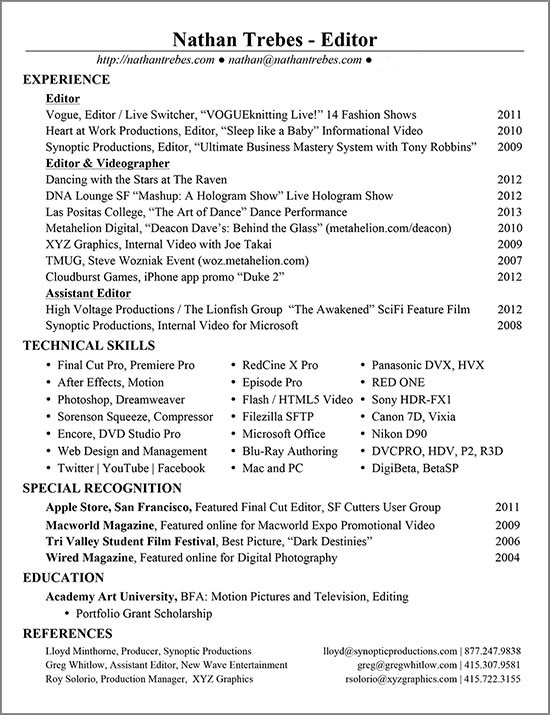 Clients:
Some of the clients I have worked for, spanning various styles and budgets.
Awards:
Below you can see some of the many festivals my work has played in.
| | | | |
| --- | --- | --- | --- |
| 2009 | | Official Selection | California Independent Film Festival |
| 2008 | | Official Selection | California Independent Film Festival |
| 2008 | | Official Selection | California Independent Film Festival |
| 2008 | | Official Selection | Wondercon |
| 2008 | | Official Selection | Danville International Film Festival |
| 2007 | | Official Selection | California Independent Film Festival |
| 2007 | | Official Selection | Danville International Film Festival |
| 2006 | | | Tri-Valley Student Film Festival |
| 2005 | | Official Selection | California Independent Film Festival |
| 2004 | | Official Selection | California Independent Film Festival |